News
Te Ora Auaha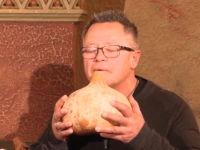 Te Ora Auaha recently convened three sessions as part of the global 2021 International Culture, Health and Wellbeing conference. The conference was led by the UK Culture Health and Wellbeing Alliance, but was fully digital making it possible for presenters from 30 different countries across the globe to connect and share practice, insights and research over three days.
All sessions were facilitated by Te Ora Auaha founding member Borni Te Rongopai Tukiwaho. The first session features a welcome from Minister for Arts, Culture and Heritage, Carmel Sepuloni, followed by Riki Bennett and Eynon Delamere talking to the healing power of taonga pūoro and the idea of ngā toi being intrinsically part of the Māori lived experience. Watch the full video below.
This session starts with an introduction about Te Ora Auaha by Amber Walls and Borni Te Rongopai Tukiwaho, as well as Briar Monro from Creative New Zealand on their support in the creative wellbeing space. We'd love to get your comments and questions on this kōrero. We'll be hosting a follow up webinar later this month to go into more depth on what was discussed, so any questions you have, please leave them here.
Thanks to Creative New Zealand, Te Taumata Toi-a-Iwi and Auckland Live for their support.