News
Te Ora Auaha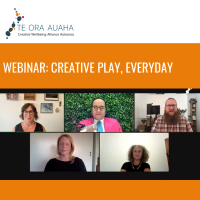 Hosted by Dr. Jeremy Mayall, join us for a panel discussion about creative play.
We explore different pathways to make more of it in your everyday life, as well as talking about how play and general creative curiosity be a useful process for everyone, even outside of the realms of artistic endeavour.
Learn about the benefits for wellbeing, balance, focus, and more and come away with ideas of how you can bring play into your everyday life.
This panel discussion features
Dr. Laura Haughey (University of Waikato / Equal Voices Arts
Kim Morton (Ōtautahi Creative Spaces)
Stephanie Christie (Visual poet)
Chris Lam Sam (Author & Entertainer)
and is hosted by Dr. Jeremy Mayall (Creative Waikato / Composer)
About the panelists
Dr. Laura Haughey
Laura started her theatre career aged 17, touring in the UK and Europe with a Deaf – led dance theatre company, performing on international stages in both British Sign Language and English. Since arriving in Aotearoa New Zealand, Laura has directed and devised three large scale original theatre productions for Equal Voices Arts, working with Deaf and hearing actors in New Zealand Sign Language. In her work, Laura loves examining how we communicate through the body, and finding new creative possibilities working across languages and cultures. She is interested in how embracing diversity can impact positively on creativity.
Kim Morton
Kim is the founder and director of Ōtautahi Creative Spaces, an arts and mental health creative community in Christchurch. A mover and shaker in the arts and health scene nationally, Kim's keen on reimagining our mental health system with access to arts an integral part. As a member of Te Roopu Mana Toi, a group of arts advocates working with Creative New Zealand, Kim enjoys the opportunity to make more noise about why arts matter, and is working on a project looking at how arts prescriptions could open up access to the arts for hauora in Aotearoa.
Stephanie Christie
Stephanie is a poet and artist, and a creative coach with Creative Waikato. In her creative practice, Stephanie makes page poems, collaborates on creative experiments and explores words as aesthetic objects. She has performed poetry in festivals, exhibited text art, recorded poems for NZEPC Six Pack Sound, and has three poetry collections. In her work at Creative Waikato she works with people to support them on their creative journeys. She especially enjoys helping people to reconnect with their creativity, and to find ways to make their creative lives easier, more joyful, and more financially rewarding.
Chris Lam Sam
Chris is a popular children's entertainer, a published picture book author with London's TATE Museums, and the NZ Symphony Orchestra says he is one of the best Master of Ceremonies they have ever worked with. Over the last 21 years he has performed live concerts for more than 2 million people, and worked with some of the best loved brands and musicians in Aotearoa and the world. He is an award-winning composer of songs for childdren, and is a unique performer who excels in working with two very different audiences — children and adults.
Dr. Jeremy Mayall
Jeremy is a composer, artist, researcher and performer who works in music, sound art, installation and multimedia formats. His work explores the interrelationships between sound, time, space, the senses, and the human experience. He specialises in collaborative creative practice through multidisciplinary and multisensory work both within the creative sector and beyond. He has performed around the world as a soloist and in ensembles. He is also the CEO of Creative Waikato, a member of Te Rōpū Mana Toi, and is a joyful advocate for arts, culture and creativity and the role that they play as an essential part of community wellbeing.