News
Te Ora Auaha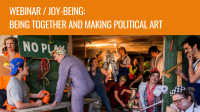 Jo Randerson (Artistic Director of Barbarian Productions) welcomes you to their community creative space, Vogelmorn Bowling Club - a former bowling club now run by and for the community.
Jo will physically guide you through the building to show how their community space is made, who's there, including Damascus Restaurant and other residents of the bowls club.
You will also meet artists participating in the development week of Ruckus - an initiative Barbarian Productions run three times a year when they open the doors to become a hub for creative arts practice with social and political focus.
Members of the community, Barbarian team members, and other artists will join Jo in discussing how to create social and physical spaces for well-being, what arts and well-being means in practice to them and how they work at the intersection of social justice and well-being.
Thanks to Manatū Taonga Ministry for Culture and Heritage, Te Taumata Toi-a-Iwi and Auckland Live for their support.