News
Te Ora Auaha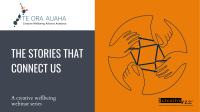 As part of our ongoing 2021-2022 creative wellbeing webinar series, this webinar features Dr. Lucy D'aeth (public health specialist) and Renee Liang (writer and doctor), speaking about the importance of storytelling and our responsibilities when sharing stories.
They discuss how to have conversations with vaccine hesitant friends and whānau, and how we're responding to the changing freedoms that have resulted from the pandemic.
They look at what rejuvenation looks like, and how arts, culture and creativity can help us during emotionally trying circumstances.
Part 1: How does storytelling affect our communication and what are our responsibilities when sharing stories?
Part 2: How can we talk to vaccine hesitant friends and whānau?
Part 3: What does rejuvenation look like and how can arts, culture and creativity help us?
An audio-only version of the conversation can be found here.
Resource: The Workshop's 'Conversations with friends and whānau about Covid-19 vaccination: connecting, not correcting' (2021)
We'd love your feedback on this kōrero - please let us know how you found it here.
About our speakers:
Lucy D'aeth is an English born New Zealander who works as a Public Health Specialist in Ōtautahi. Over the past decade, her work has mainly focused on mental health promotion for communities recovering from disasters. Lucy's PhD is in theology, and focuses on how stories can liberate and heal communities.
Renee Liang is a poet, paediatrician, playwright and essayist. She has toured eight plays and collaborates on visual arts works, dance, film, opera, community events and music. Some poetry and short fiction are anthologised. A memoir of motherhood, When We Remember to Breathe, with Michele Powles, appeared in 2019. In 2018 she was appointed a Member of the NZ Order of Merit for services to the arts.
This webinar was made with the support of Creative New Zealand.