News
Te Ora Auaha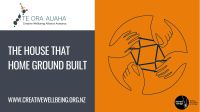 Home Ground is a creativity and wellbeing initiative for women in the justice system. Home Ground delivers projects in the community and Arohata Prison where women can collaborate with artists, practice wellbeing tools and experience a range of art forms.
Home Ground encourages participants to value the strength in their life experience, tap into their creative purpose and re-connect with community.
The team talk about Home Ground's particular brand of magic, creative collaboration and best practice, and working to create art projects that address the issues women and whānau face in the justice system.
Thanks to Manatū Taonga Ministry for Culture and Heritage, Te Taumata Toi-a-Iwi and Auckland Live for their support.