Article
Te Ora Auaha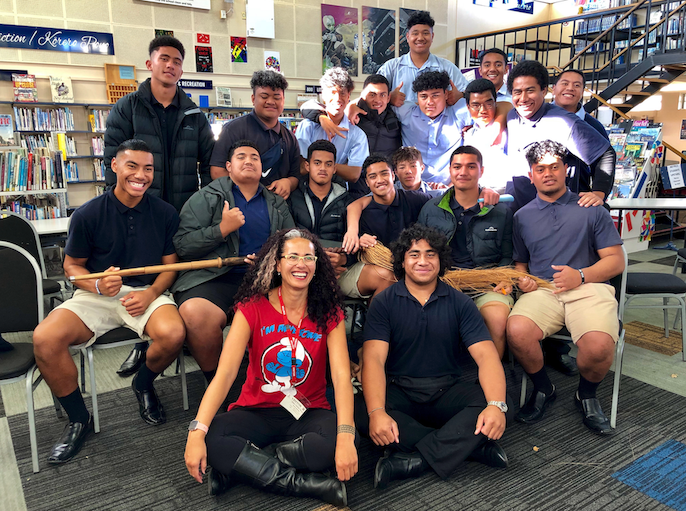 By Selina Tusitala Marsh
Mophead is a story about having too-big hair. It's a story about how I grew from being teased as 'mophead', 'gollywog' and 'Pipi black-stockings' at school, to becoming the first Pasifika New Zealand Poet Laureate. Mophead is my kryptonite story. What others framed as my weakness, was also the source of my superpower. My mophead morphed from being the bane of my existence, to the mane of my existence when I found voice through poetry and began discovering other people whose difference made the difference – people I call 'inspirators'. One of these was our own New Zealand bard, Sam Hunt with his 'wild ways and wild words'. He tilted my world off its axis when I was eleven and he visited my school. He's one of the reasons why I continue to perform and speak in schools today – I know the difference it can make to a kid to be shown other possibilities, other ways of being in this world.
Few things beat the delight of reading Mophead to wide eyed, open mouthed kids; or seeing their faces when I walk into the room and they realise that Mophead is 'real', that authors are real and can look and sound like me. When they also realise that I drew the pictures, their little bodies burst with colour. When they reach the end of the book and see the real photos of me with the Queen; me at three years old with my mophead; me and the mop-like Poet Laureate tokotoko, they explode into rainbows. I just tell my story. In showing kids how I let my own hair out, they see how they might embrace their wilder, freer sides too.
It's also a privilege to witness others telling my story, and using Mophead to grow and heal the next generation. As part of my work with the University of Auckland's Centre for Arts and Social Transformation, I've gone into schools with Jane Keely and Peter O'Connor as they pilot a wellbeing curriculum based on Mophead as part of the Sir John Kirwan project. Seeing Jane and Peter pull out one strand of story and drawing at a time and use it to get kids to think, talk, show, and move into their own feelings of difference, sadness, worry, and reclamations of power, has been stunning. There's so many life lessons and holistic learnings to be gained from inspiring stories. So far CAST has developed a 12 week wellbeing programme and they haven't even gone past page 12 yet!
My sequel Mophead TU: The Queen's Poem is out this November. Whereas Mophead was about 'how your difference makes the difference', Mophead TU ('tu' means 'stand') is about 'how where you stand matters'. I look forward to taking what I've dubbed as 'Colonialism 101 for kids' out to classrooms and boardrooms alike!
Mophead (Auckland University Press), is Selina's first graphic mini-memoir for all ages. It is the winner of the 2020 Margaret Mahy Book of the Year Award. Check her out at: https://tusitala.nz. https://aucklanduniversitypress.co.nz/mophead-tu-the-queens-poem/