News
Te Ora Auaha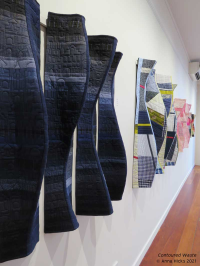 Textile Therapy – Meditative stitching inspired by textile waste.

Anna Hicks is a sustainable textile artist & tutor based in Wellington, New Zealand. She exhibits and teaches to promote sustainability and the health benefits of handcrafts. Her work includes a variety of hand and machine textile art in the quilting, embroidery and sustainable fashion sectors.

Anna's latest project was an interactive exhibition called Textile Therapy held in June 2021 in Wellington. It is an ongoing creative project based on two of her current quilted art series that provide different types of relaxation to help manage stress, anxiety, grief and much more. These were not exercises in making art as an end in itself, but about enjoying every step of the creative process and the many health benefits that come with the physical act of making.

Her art series 'Contoured Waste' and 'Mindless Meander' are 3D quilted art series inspired by using up fabric waste to provide different therapeutic benefits for different moods. 'Mindless Meander' is for not thinking and just enjoying the repetitive, rhythmic and self-soothing action of unplanned, random hand stitching. 'Contoured Waste' is for precision and control thus providing small challenges to overcome and healthy distraction from negative thoughts.

The philosophy is to embrace imperfect stitching and making, rather than to strive for perfectly executed work, and to take pleasure in knowing it is unique and handmade.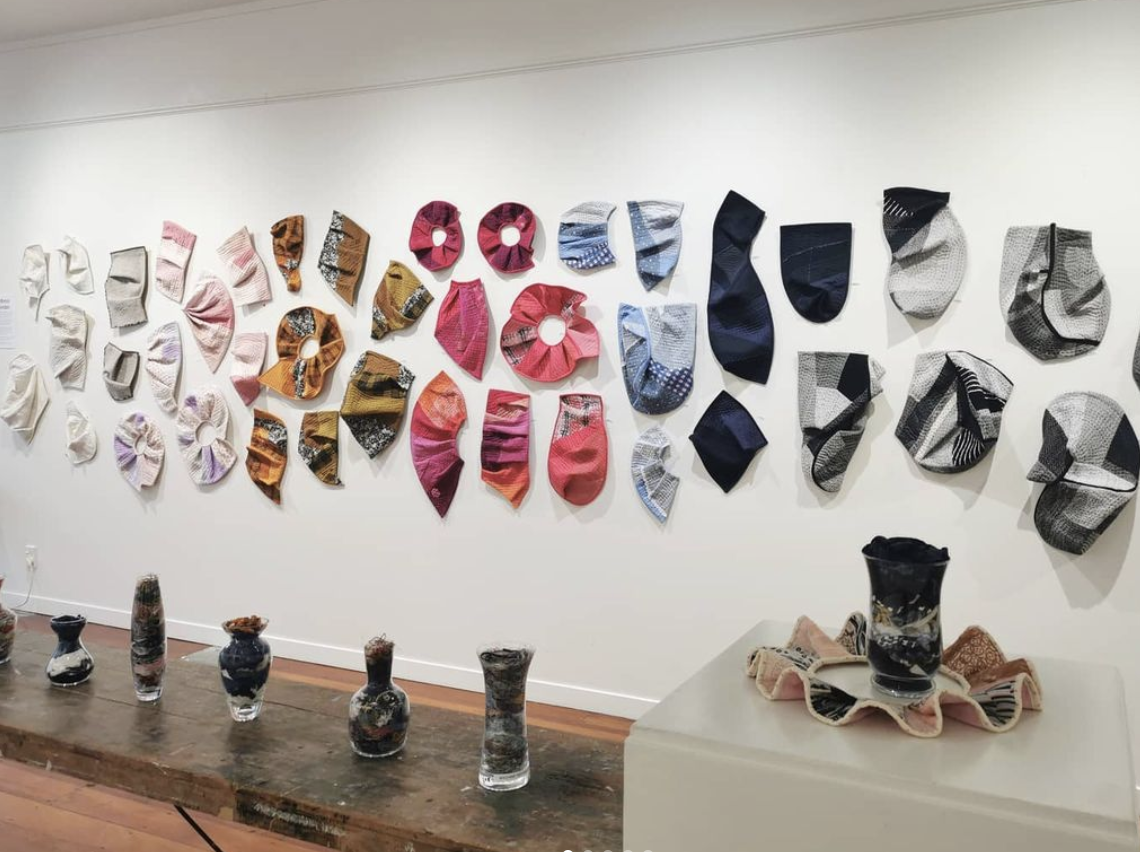 The goal of the Textile Therapy exhibition is to
Inspire people to examine creativity and look at their own practices differently.

Encourage anyone new to sewing or art to give it a go.

Show that you don't have to have experience or be "good at it" to enjoy the relaxing benefits.
The Textile Therapy project is about
Helping people remove barriers to therapeutic creativity.

Teaching practical techniques to assist in utilising the steps of the creative process.

Specifically adding creative practise to busy lives by having prepared bundles of fabric and thread to pick up and start stitching when tired and time poor.

Enjoying the mindless meandering of meditative hand stitching. Even just 5 – 10 minutes of stitching is enough to lower the heart rate and relax the mind.

This exhibition really highlighted how many currently creative people have been using textiles as therapy without realising that this is what they're doing. There is a tendency to get stressed about stitching perfectly and finishing things to extremely high standards. This exhibition was to encourage the joy of stitching and the letting go of sometimes unattainable standards to simply enjoy each part of the creative process for what it is; active mindfulness relaxation.

This was the first public exhibition of this project. The next step is to share the inspiration further than the Wellington area by providing more exhibitions and to develop interactive classes, lectures and/or mindfulness stitching retreats to teach people the techniques to implement these ideas into their daily lives.

One long term goal is to start a social enterprise that produces kit sets of Textile Therapy hand stitching projects. These could be offered to patients at mental health and recovery facilities around New Zealand. Coordinating companies which have textile waste and people who could use the textiles for therapy could, in the process assist in diverting the textiles from landfill.

"I was asked to look at my cross stitch from new perspectives - emotional and meditative.... thank you, I am eternally grateful." - an exhibition visitor.

If you'd like to get in touch with Anna her contact details are
anna.hix@gmail.com
www.annahicks.co.nz
Facebook and Instagram @runningwithstitches