News
Te Ora Auaha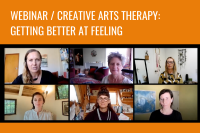 This webinar gives a brief introduction to the field of Creative Arts Therapy which is an emerging profession in Aotearoa. The faculty of the postgraduate programmes in Creative Arts Therapy at Whitecliffe discuss their approach.
They explain that the creative arts used therapeutically can not only make us feel better, but they can also assist us to get better at feeling. The webinar is presented in separate modules, starting with an introduction followed by some short experiential sections that offer activities that you can try for yourself. These are intended to support your wellbeing and to be safe to do alone in your own space.
Dr Deborah Green crafted the acronym BRATS as an easy to remember, and supportive reminder of gentle self-soothing, evidence- and body-based activities for therapists and clients navigating uncertainty during the pandemic. BRATS can also be a helpful tool for anyone looking for self-regulation during troublesome anxiety, stress, low mood, or trauma responses. The letters decode into the broad categories of: B – breath; R – rhythm; A – activity; T – temperature; S – senses, and can be approached in a variety of ways, some of which are demonstrated in this video from a Creative Arts Therapy perspective.
If you would like to engage in some therapeutic work that goes deeper into supporting your personal growth, there are some resources provided. These can guide you in seeking out a registered Creative Arts Therapist who can companion you in this process.
https://www.whitecliffe.ac.nz/
Part 1
Part 2
Part 3
Webinar participants
Amanda Levey (Auckland)
Co-Head of School + Co-Coordinator of Year 3 (amandal@whitecliffe.ac.nz)
Amanda is Co-Head of School alongside Deborah and MA CAT Year 3 Co-coordinator alongside Heleina. Amanda studied psychology at the University of Melbourne, and subsequently trained extensively in the Halprin Method in the USA. This model is an integration of movement/dance, visual arts, performance techniques and therapeutic practices. She gained her MA in Arts Therapy at Whitecliffe College of Arts and Design, and she has presented at conferences in Australia, New Zealand, Singapore, Seoul, Italy and Poland.
Dr Deborah Green (Christchurch)
Co-Head of School, Research Coordinator + Co-Coordinator for Year 2 (deborahg@whitecliffe.ac.nz)
Deborah is Co-Head of School alongside Amanda, Research Coordinator and MA CAT Year 2 Co-coordinator alongside Angie. Her background is in educational/community theatre, community development, lifeskills/AIDS education and counselling, and adult education within the South African University and Health sectors (1990 to 2004) following which she trained as an Arts Therapist through Whitecliffe College. She was awarded her PhD by the University of Auckland in 2016 for a thesis exploring her arts therapy practice during the Canterbury earthquakes. She is a co-editor for the academic journal JoCAT (formerly ANZJAT) and she has published papers and book chapters on various aspects of her arts therapy and research work in a range of academic journals and books and has presented at conferences/symposia in Australia, New Zealand, Singapore, Canada and the United Kingdom.
Angie Richardson
Co-Coordinator for Year 2 (angier@whitecliffe.ac.nz)
Angie is MA CAT Year 2 Co-coordinator alongside Deborah. Angie is an experienced and clinically registered Creative Arts Therapist and registered primary school teacher. She has worked extensively with children for the past 35 years in a range of educational and therapeutic roles. In partnership she ran the 'Taylor-Richardson School of Drama' for children in West Auckland for a number of years. She has vast experience working in the area of special needs after graduating from Whitecliffe with an MAAT (Clinical) in 2010. In this field she has been a drama therapist in two special needs schools, was an arts therapist and student co-ordinator for Mapura Studios and worked for Dance Therapy NZ as a Movement therapist. Angie has a private practise 'Creative Harmony' where she has worked with children/teens/adults either individually or with families using a multi modal approach that includes drama/play therapy, creative visual art making, sandtray, drumming and movement. Through her business she offers supervision and contracts to organisations. Currently this work includes art therapy for mental health with 'Hearts and Minds' and working in schools as a creative arts therapist. She is a dreamer, a half pie crafty project maker, an improviser and loves floating in the oceans of Tangaroa like a starfish!
Wendy Lawson
Programme Leader, Arts Practice Coordinator and Placement Coordinator (wendyl@whitecliffe.ac.nz)
Wendy is Programme Leader, Arts Practice Coordinator and Placement Coordinator. Wendy is a Whitecliffe trained, registered creative arts therapist. She has an eclectic, multi-modal practice, drawing experience from working in a variety of private, education and community settings with people of all ages and abilities. Wendy is an avid arts-maker, and recently extended her arts practice by completing Whitecliffe's MFA programme.
Heleina Waimoana Dalton (Auckland)
Co-Coordinator for Year 3+ Cultural Sensitivities Advisor (heleinad@whitecliffe.ac.nz)
Tēnei au, tēnei au, he tauira nā ōku tupuna,
Tēnei au he tauira o ngā whakatupuranga,
He tauira! He tauira! E ara e.
Kō Ngāpuhi, Kō Ngāti Awa, Kō Ngai Tai,
Kō Ngāti Kahungunu, Kō Ngāti Pākeha ōku iwi
Mauri toi, mauri ora!
Heleina is Co-coordinator for MA CAT Year 3 alongside Amanda and Cultural Sensitivities Coordinator. Heleina is a mother and grandmother, and fosters a deep connection to her whānau, community and the natural environment. Heleina's background is in Māori Visual Arts and adult education and adopts kaupapa and tīkanga Māori as a living, dynamic framework. She is passionate about the integration of Indigenous knowledge systems for the contemporary context.
Heleina is a registered Creative Arts Therapist and holds a MAAT (clinical) with Honours, a BA in Māori Visual Arts - Maunga Kura Toi/ Rauangi, and a Certificate in Nonviolent Parent Education/Poutiria te Aroha. Heleina contracts to Arts Therapy Works Limited which is based at a community health centre in South Auckland. She works with a diverse client base as a person-centred, Creative Arts Therapist. Heleina is also on the Board of Trustees at The Grace Foundation.
Hilary Tapper (Christchurch)
Contractor assisting with the PGDip Christchurch, Research and online learning (hilaryt@whitecliffe.ac.nz)
Hilary is a registered creative arts therapist, illustrator, PhD candidate, and assists with the Christchurch Post-graduate Diploma, research and online learning with Whitecliffe's School of Creative Arts Therapy. She holds a MAAT (Clinical) with Honours, a Diploma in Screen and Media, and a Bachelor with Honours in Vaishnava Theology and Religious Studies. Hilary's creative, spiritual and philosophical passions have taken her around the world - from living in ashrams in Europe, creating documentaries in India, and presenting her work at yoga centres across the USA. She sought out study of creative arts therapy at Whitecliffe after experiencing a glimpse of the healing capacities of artmaking during a time of hopelessness, and witnessing how powerful the arts can be to facilitate change. Hilary has presented her arts-based, autoethnographic research at conferences and in online journals, engaging her creative practices of illustration, filmmaking, movement and performance to explore the confluence of the arts and self.
This webinar was made with the support of Creative New Zealand.