International Culture, Health and Wellbeing Conference (CHW21)
Mon 21 Jun 2021, 08:00 pm
Creative Wellbeing, Arts Culture, Conferences Workshops Classes
Early Bird Tickets (£150): Available 8th March – midnight (GMT) on 7th May 2021. Regular Tickets (£200): Available 8th May – 7th June (final booking deadline midnight GMT on 7th June 2021)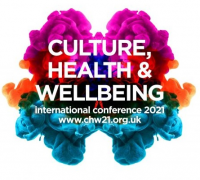 With support from Creative New Zealand's Wayfinding Programme*, and the team at Auckland Live, Te Ora Auaha has been working on an Aotearoa-specific contribution to the 2021 International Culture Health and Wellbeing Conference. Hosted fully online for the first time, this year's International Culture, Health and Wellbeing Conference promises to be truly global. The conference explores the themes of Inequality, Power and Sustainability in relation to arts, culture, health and wellbeing practice. Over three live days of presentations, workshops, performances and discussions, emanating from 20 countries, the conference will cover subjects as varied as: dementia and the arts; hip hop therapy; young people's mental health; singing for health; staff wellbeing and training; partnerships and access; population level research; the arts in public health; and different perspectives on wellbeing, including Mātauranga Māori. Using the digital platform Airmeet, conference content will be recorded and then made available across the 5 full days, so you'll be able to check in to watch and discuss sessions from previous days with peers from around the world.
Alongside a keynote from our very own Minister Sepaloni (Minister for Social Development & Employment, Minister for Disability Issues, and Minister for Arts, Culture & Heritage), the conference opens with the premiere of Cap O'Rushes, a new work by award-winning composer Cevanne Horrocks-Hopayian. Professor Pascale Allotey, from the UN University Institute for Global Health in Malaysia, will speak about 'Culture is no excuse for Inequality'. Lord Howarth of Newport, Chair of the UK National Centre for Creative Health, and Taru Koivisto, Director of the Ministry of Social Affairs in Finland, will talk about innovative national policies. Practitioners in Singapore, Hong Kong, Japan, Netherlands, Italy, USA, Wales and Scotland will present country specific panel discussions.
As part of the conference, Te Ora Auaha has coordinated a presentation sharing local perspectives on wellbeing and showcasing our distinct practice and research. Facilitated by Bōni Te Rongopai Tukiwaho, it will include:
Te Taumata Toi-a-Iwi (Auckland's Regional Arts Trust) will bring together creative practitioners and thinkers to share arts and wellbeing practice from the perspective of Mātauranga Māori.

The public health team at Canterbury DHB have curated a collection of presentations sharing lessons and insights from Ōtautahi/Christchurch, demonstrating the role of arts and creativity in the city's recovery from disaster (including earthquakes, terrorist attacks and COVID 19). Presenters include Kim Morton from Ōtautahi Creative Spaces, Ciaran Fox from the Mental Health Foundation, Ryan Reynolds from Gapfiller, and Aaron Hapuku from Canterbury University.

The third set of presentations explores Aotearoa's rich body of youth arts/ Toi Rangatahi practice, which draws from western, Māori and Pacific Island worldviews and creative practices. Dr. Molly Mullen and Amber Walls share insights from recent University of Auckland research, exploring issues related to resourcing, sustainability and culturally sustaining practice methodology. Huia O'Sullivan shares the highly acclaimed work of the team at Ngā Rangatahi Toa in Auckland, and Bethany Matai Edmunds shares insights from the new Tai o Hī Tai o Hā marae-based Māori arts youth wānanga programme in Northland.
Check out the programme here.
Tickets are available here.
You can sign up for the newsletter to receive programme updates here.


The overall conference is organised by a collaboration between the UK Culture, Health and Wellbeing Alliance and Arts & Health South West.
The conference happens every four years, and you can also check out the report from the last conference in 2017: https://issuu.com/alexandracoulter5/docs/sme771_ahsw_conference_report_2017
*Creative New Zealand's Global Wayfinding Programme helps artists, practitioners and arts organisations stay internationally engaged and strengthens their professional capabilities so that they can sustain their international practice. This includes supporting artists to participate in established international forums and platforms to build relationships and to maintain NZ's international profile.