Seminar - The State of Play - Arts organisations working towards social justice and wellbeing for young people in Auckland, New Zealand
Wed 27 Nov 2019, 04:30 pm
Wed 27 Nov 2019, 05:30 pm
The University of Auckland Epsom Campus
H301 Epsom Campus University of Auckland Gate 3 74 Epsom Ave, Epsom
Auckland
Arts Culture, Health Wellness, Children,
The University of Auckland, Education and Social Work
Refreshments provided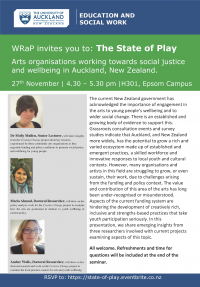 The current New Zealand government has acknowledged the importance of engagement in the arts to young people's wellbeing and to wider social change. There is an established and growing body of evidence to support this. Grassroots consultation events and survey studies indicate that Auckland, and New Zealand more widely, has the potential to grow a rich and varied ecosystem made up of established and emergent practices, a skilled workforce and innovative responses to local youth and cultural contexts. However, many organisations and artists in this field are struggling to grow, or even sustain, their work, due to challenges arising from the funding and policy context. The value and contribution of this area of the arts has long been under-recognised or misunderstood. Aspects of the current funding system are hindering the development of creatively rich, inclusive and strengths-based practices that take youth participation seriously. In this presentation, we share emerging insights from three researchers involved with current projects examining aspects of this topic:
RSVP to: https://state-of-play.eventbrite.co.nz
Amber Walls, Doctoral Researcher, will draw on her doctoral research and work on the Creative Change project to examine the local practice context for arts and youth wellbeing.
Maria Ahmad, Doctoral Researcher, will draw on her policy analysis work for the Creative Change project to examine how the arts are positioned in relation to youth wellbeing in current policy.
Dr Molly Mullen, Senior Lecturer, will share insights from the Creating Change project about key tensions experienced by three community arts organisations as they negotiate funding and policy conditions to promote social justice and wellbeing for young people.