Te Rito Toi - Returning to school through love and care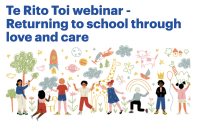 When classrooms and schools physically reopen, teachers will need to help children understand how the world has changed over the last few months. The webinar provides practical advice on how to manage the return to school and how to centre that on pedagogies of love and care, ensuring the emotional and mental wellbeing of children and teachers.
This webinar is for all educators, to support them with their transition back into schools. The Panelists include The University of Auckland's Professor Carol Mutch and Professor Peter O'Connor; Lynda Stuart, the Principal of May Road School; and Marie Gallichan, a classroom teacher at Newton Central School.
Webinar: Wednesday 17th November, 4pm
Register at:
https://action.nzei.org.nz/events/te-rito-toi-webinar